text.skipToContent
text.skipToNavigation

Swagelok® Ultrahigh-Purity Diaphragm Valves (ALD7 Series)
The Swagelok ALD7 ultrahigh-purity valve provides the flow consistency and capacity, actuator speed, temperature rating, and cleanliness necessary to help maximize chip throughput in new or existing semiconductor manufacturing tools.
Request More Information
Performance So Consistent, It's Revolutionary
The Swagelok ALD7 ultrahigh-purity diaphragm valve is the latest innovation in atomic layer deposition (ALD) valve technology resulting from more than five decades of Swagelok supporting semiconductor fabricators and tool manufacturers. This high-performance semiconductor valve enables tool manufacturers and chip fabricators to increase viable chip yields and enhance profitability by enabling the flow consistency, flow capacity, actuator speed, and performance at high temperatures necessary to overcome limitations in current production processes.
Built for Uncompromising Precision
Featuring faster response time, thermal stability at high temperatures, and enhanced corrosion resistance, the ALD7 provides consistent performance from valve to valve, dose to dose, and chamber to chamber over an ultrahigh cycle life.
The ALD7 delivers precise dosing over the course of millions of cycles in even the most demanding ALD applications
Enhanced actuator technology allows this semiconductor valve to operate faster than industry-standard technology, with a response time as low as 5 ms
The actuator is immersible to 150°C, and the valve is rated to 200°C, providing flow consistency at high temperatures and under vacuum conditions
A valve body comprised of proprietary ultrahigh-purity Swagelok 316L VIM-VAR stainless steel provides the ALD7 with resistance to corrosive gases
Higher Performance. Minimal Rework Required.
The ALD7 can deliver flow capacity compared to existing semiconductor valves but maintains the same footprint. Its compact design helps semiconductor manufacturers upgrade the productivity of legacy tools without making significant process modifications.
The ALD7 can deliver a flow coefficient (Cv) up to 0.7 and enables precise, repeatable dosing from chamber to chamber
The ALD7 maintains the same 1.5-in. footprint as Swagelok industry-standard ALD valves
The valve features an integrated thermal isolator, shortening the valve's profile and allowing system designers to maximize limited space near the reaction chamber
Specifications
Working Pressure
Vacuum to 145 psig (10.0 bar)
Burst Pressure
>3200 psig (220 bar)
Actuation Pressure
60 to 120 psig (4.1 to 8.27 bar)
Temperature Rating
Valve body from 32°F (0°C) to 392°F (200°C)
Actuator from 32°F (0°C) to 302°F (150°C)
Flow Coefficient
0.7 Cv
Body Materials
316L VIM-VAR stainless steel
Diaphragm Material
Cobalt-based superalloy
End Connections
Type
VCR® fittings
Tube butt weld
1.5 in. modular surface-mount high flow C-seal
ALD7 Series Valves Catalogs
Locate detailed product information, including materials of construction, pressure and temperature ratings, options, and accessories.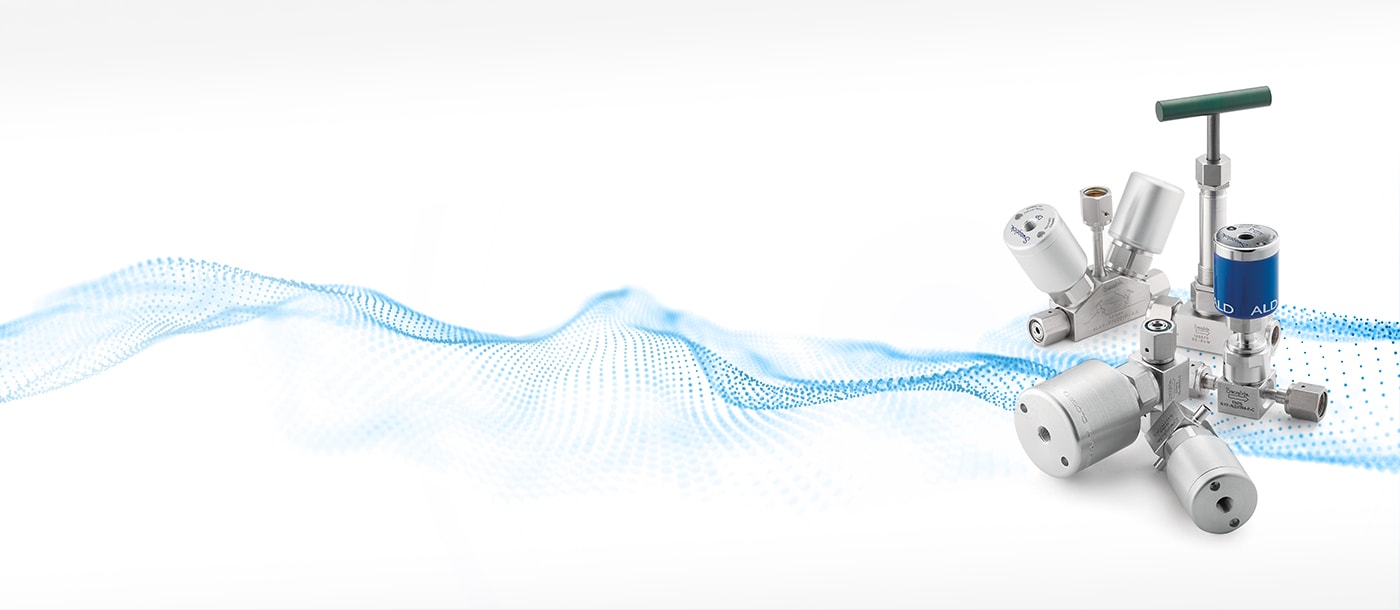 How to Solve Top ALD and ALE Semiconductor Processing Challenges
ALD and ALE semiconductor production processes come with some inherent challenges and complexities. Learn how the right selection of process valves can help you overcome them.
Select the Right Valves for ALD Challenges
Swagelok Resources Curated for You