text.skipToContent
text.skipToNavigation

Swagelok® Ammonia Sampler
The Swagelok® ammonia sampler makes anhydrous ammonia sampling safer by minimizing operators' exposure to liquid and vaporized ammonia. It also introduces consistency into the sampling operation significantly expedites the sampling process, and eliminates the transportation of ammonia samples within the facility.
Request More Information
A Better Solution for Ammonia Sampling Challenges
Anhydrous ammonia is used in the production of fertilizers, plastics, textiles, petroleum, and more. To avoid ammonia stress corrosion cracking in storage tanks and product quality concerns, the product must be regularly sampled to verify a water content of 0.2% to 0.5%.
Swagelok's closed-loop ammonia sampling unit is designed to remove the challenges inherent to traditional ammonia sample collection methods.
The Swagelok ammonia sampler:
Minimizes hazardous exposure to the operator
Introduces consistency into the ammonia sampling operation for more accurate results
Expedites the gathering of results
Adheres to the highest quality and safety standards

Designed for Safety
Traditional ammonia sampling methods potentially expose operators to dangerous ammonia liquid/vapor, requiring full personal protective equipment (PPE). The Swagelok ammonia sampler minimizes operator exposure and environmental impact. It can also be installed directly at the sample point, eliminating hazardous transportation and storage of anhydrous ammonia throughout the plant.

Designed for Accuracy
Manual ammonia sampling processes rely on the skills and judgment of the operator, which can cause inaccuracies that may lead to unnecessary costs or even an off-spec product. In manual sampling processes, it is difficult to fill a warm residue tube precisely as ammonia boils off. It is also difficult to control the rate of evaporation, which also introduces inaccuracies. The Swagelok ammonia sampler is built to deliver consistent results.

Designed for Efficiency
Evaporation also takes a significant amount of time—operators retrieve samples by hand and leave them under heat sources until results can be measured eight or more hours later. The Swagelok ammonia sampler can reduce sampling time to roughly two hours total.
Swagelok Ammonia Sampler Features and Benefits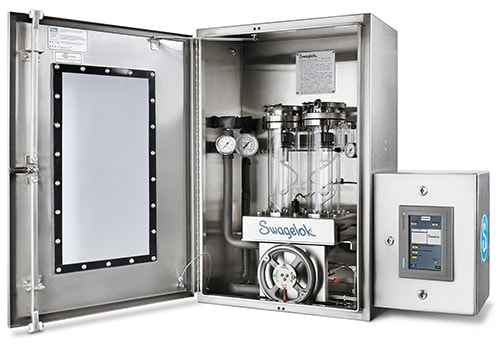 Closed-Sample Fixtures
Our ammonia sampler features closed-sample fixtures, which improve safety by limiting operator exposure and environmental impact from excess emissions.
Closed-sample design eliminates the need for extensive operator PPE
Glass design allows operators to visually monitor sample conditions
Available in single- or dual-fixture designs
Prechilled Residue Tubes
Cold ammonia is used to create a cold bath to draw heat out of the fixture and residue tube, preventing aggressive boiling that threatens fill accuracy.
Fill level of the cold bath is controlled using an elevated drain tube
Filling the cold bath clears the supply line of older ammonia, resulting in a fresh sample
Ammonia fast loop chills the sampling valves
Concentric tubes prechill the sample lines
Semiautomated Dispensing
A cap assembly is fitted to the residue tube to assist with the filling process. When filling the residue tube, the cap assembly assists in dispensing an accurate and precise sample size.
Cap assembly seals on top of the residue tube and controls fill level
Overflow empties into the cold bath, ensuring consistent sample size
100 mL or 250 mL residue tube sizes are available
Single-Handle Operation
A single handle for controlling sampler function contributes to easier operation and helps prevent operator error. A geared mechanism controls four valves with a single handwheel, controlling "off," "purge," "chill," and "sample" functions. Additional control valves can be provided for adjustability during commissioning and maintenance.
Touch Screen Heater Controls
A touch screen interface is used to control all heater operation, improving consistency and preventing overheating. Easy-to-use, intuitive operator interface offers on-screen, step-by-step instructions for minimized operator confusion.
Global Distribution. Local Support.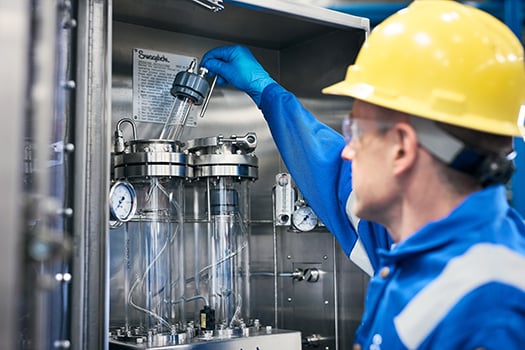 Our global distribution network exists to help you with your ammonia sampling needs wherever you operate. Fluid system professionals from your local authorized Swagelok sales and service center can work closely with you to determine the type of panel and the proper configuration to meet your ammonia sampling needs. Each sampler will be built to your specifications by experienced fluid systems technicians. All Swagelok ammonia samplers are rigorously tested and are backed by the Swagelok Limited Lifetime Warranty.
View our Application Guides
Locate detailed information about our assemblies.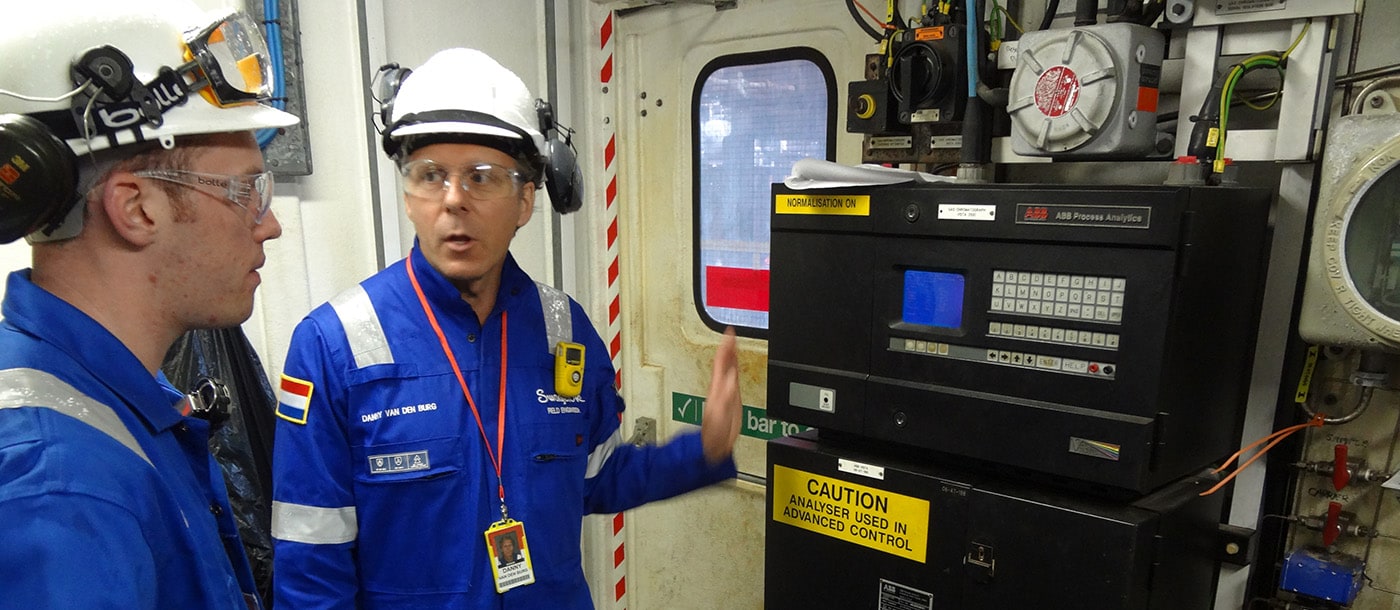 Swagelok Evaluation and Advisory Services
Whether for ammonia sampling or another sampling or fluid system challenge, Swagelok specialists can visit your facilities to help improve operational performance, eliminate potential safety and environmental concerns, and achieve optimized system performance and efficiency.
Get the Sampling Support You Need
Swagelok Resources Curated for You