text.skipToContent
text.skipToNavigation

Swagelok® Ultrahigh-Purity Diaphragm Valves (ALD3 and ALD6 Series)
The Swagelok ALD3 and ALD6 series diaphragm valves offer ultrahigh cycle life, high-speed actuation, and flow coefficients up to 0.62, allowing semiconductor manufacturers to achieve the controlled dosing needed for atomic layer deposition (ALD) semiconductor manufacturing.
Request More Information
Ultrahigh-purity ALD3 and ALD6 valves are designed to provide semiconductor manufacturers with dependable, high-speed dosing of precursor gases used to build up microchips layer by layer in deposition chambers. These high-performance ultrahigh-purity valves feature:
Ultrahigh cycle life with high-speed actuation
Flow coefficients ranging from 0.27 to 0.62, with custom flow coefficients available
Full immersibility up to 392°F (200°C) with optional thermal actuators
Suitability for ultrahigh-purity applications with standard 316L VIM-VAR stainless steel valve bodies
Modular surface-mount, tube butt weld, and Swagelok VCR® end connections
Electronic or optical actuator position-sensing option
ALD3 and ALD6 diaphragms are composed of a cobalt-based superalloy material that provides strength and corrosion resistance; their valve bodies are composed of 316L VIM-VAR stainless steel, making them suitable for ultrahigh-purity applications; and the valve seats are composed of fully fluorinated high-purity PFA to enable a broad range of chemical compatibility and excellent resistance to swelling and contamination.
Ultrahigh-purity ALD3 and ALD6 valves can be set up for normally closed and normally open pneumatic actuation, and they are available in a variety of configurations, including two-port straight and elbow designs; two-, three-, and four-port multiport valves and multivalve manifolds; and two- and three-port modular surface mount valves in 1.125 in. (ALD3 series only) and 1.5 in. platforms. Available thermal actuators, position sensors, solenoids, and optional body holes to accommodate heater cartridges can all provide additional value to a user depending on their specific processes.
Specifications
Working Pressure
Vacuum to 145 psig (10.0 bar)
Burst Pressure
>3200 psig (220 bar)
Actuation Pressure
50 to 90 psig (3.5 to 6.2 bar)
Temperature
32° to 392°F (0° to 200°C)
Flow Coefficient (Cv)
0.27 or 0.62
Body Materials
316L VIM-VAR stainless steel
Diaphragm Material
Cobalt-based superalloy
End Connections
Type (Size)
Female VCR® face seal fitting (1/4 in. to 1/2 in.)
Male VCR face seal fitting (1/4 in. to 1/2 in.)
Modular surface mount high-flow C-seal (1.125 in. to 1.5 in.)
ALD3 and ALD6 Series Valves Catalogs
Locate detailed product information, including materials of construction, pressure and temperature ratings, options, and accessories.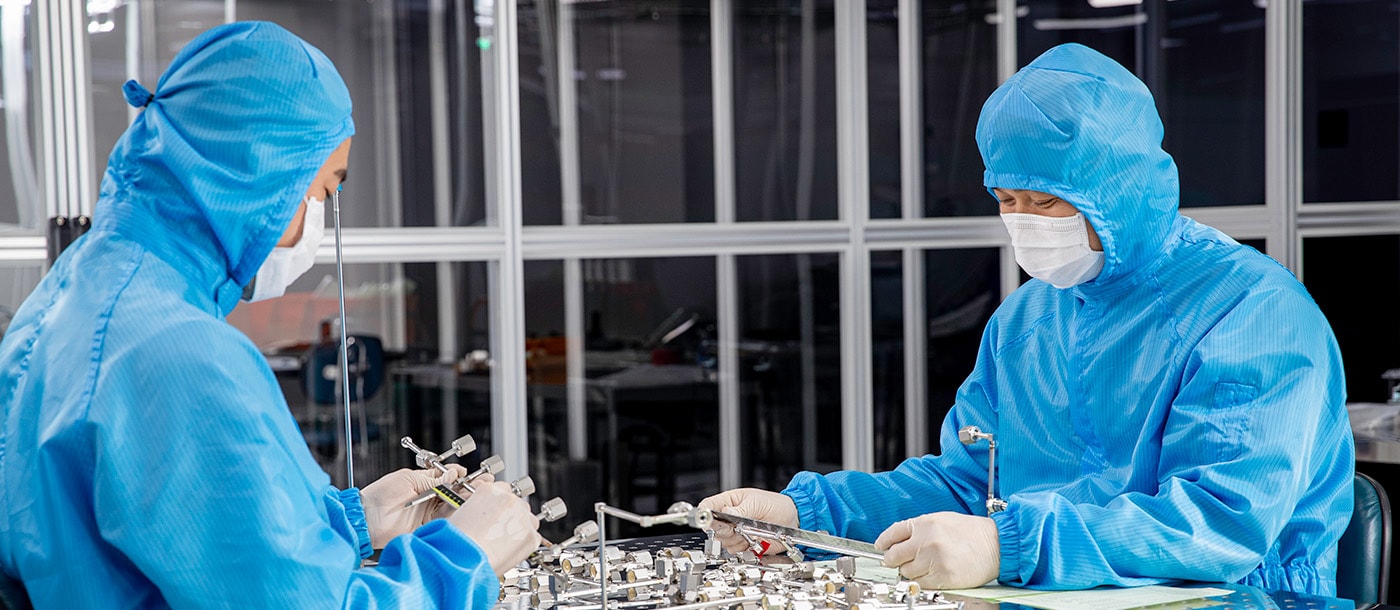 Improve Semiconductor Yield with Optimized Alloys
Discover how semiconductor fabricators can improve end-to-end production yields and improve long-term profitability by selecting the right metals for critical fluid system components.
Learn About Material Selection
Swagelok Resources Curated for You