text.skipToContent
text.skipToNavigation

Swagelok® Bench Top Tube Benders
Rugged, lightweight Swagelok bench top tube benders make it simple to create consistent tube bends in a range of configurations, allowing you to expedite installation while maintaining high quality standards.
Request More Information
Swagelok's bench top benders have a rugged aluminum construction for durability and are CE compliant. A bend range of 1 to 180° for tubing with outer diameters of 1/4 to 1 1/4 in. and 6 to 30 mm and wall thicknesses from 0.028 to 0.120 in. and 0.8 to 3.0 mm helps meet the need for producing bent tubing in a variety of configurations.
A grease gun is included for convenience during operation. A metal carrying case provides easy storage and transport when necessary.
The bench top bender is available in manual and electric models. The manual model can be operated with a 1/2 in. drill motor using an optional torque clutch and support arm.
Steel bend shoes are required for the following (other bend shoes will be aluminum):
1 in. O.D. tubing with greater than 0.095 in. wall thickness
25 mm O.D. tubing with greater than 2.4 mm wall thickness
All sizes of 2507 tubing
All sizes of heavy-wall annealed stainless steel tubing
All sizes of cold-drawn 1/8-hard stainless steel seamless tubing
All sizes of IPT medium and high pressure tubing
Specifications
Dimensions—tube bender in case
14 1/2 in. (37 cm) high, 21 in. (53 cm) wide, 11 in. (28 cm) deep
Weight—tube bender in case, excluding tools:
Manual model
75 lbs. (34 kg)
Electric model
79 lbs. (36 kg)
Power requirements (electric model):
MS-BTB-1
110 V (ac), 50/60 Hz; maximum current—10 A
MS-BTB-2
230 V (ac), 50/60 Hz; maximum current—5 A
Bench Top Tube Bender Catalogs
Locate detailed product information, including materials of construction, pressure and temperature ratings, options, and accessories.
Tubing Tools and Accessories
Swagelok® tube benders provide high-quality bends on fractional and metric tubing made from materials that can be used with Swagelok tube fittings. Tube preparation tools, including tube cutters and preswaging tools, are also available.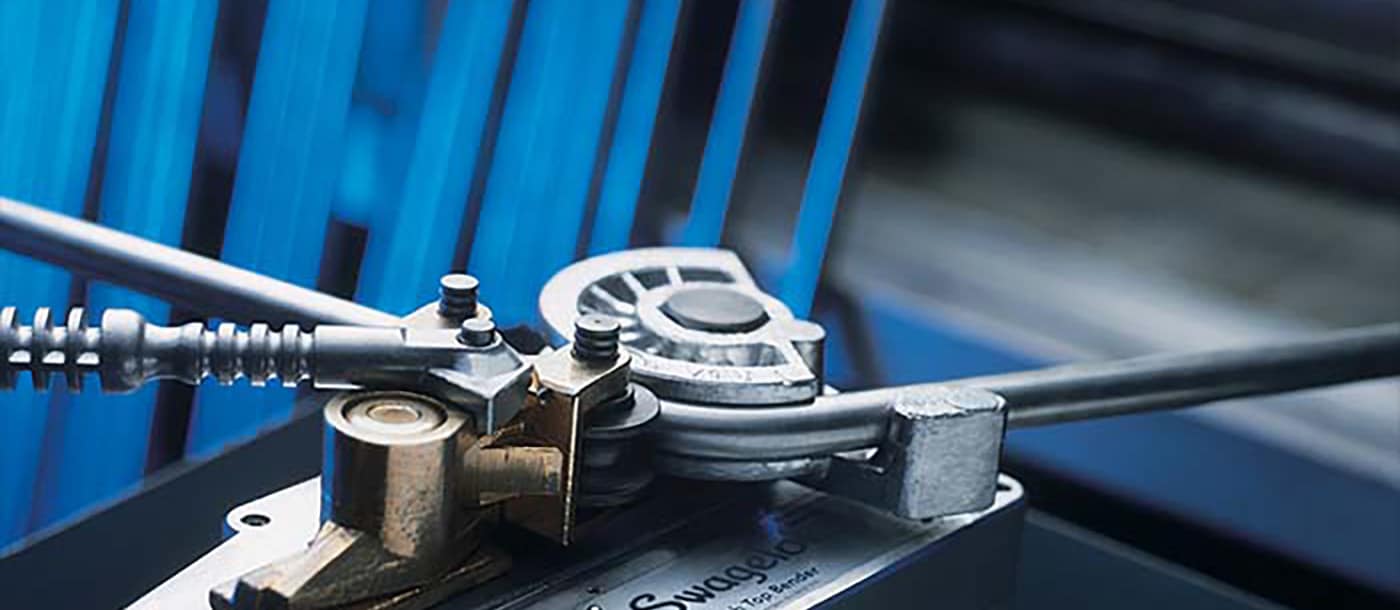 Using the Swagelok Bench Top Tube Bender
Use the Swagelok® bench top tube bender to produce accurate, repeatable, high‑quality bends in tubing made from most materials. Whether you are using small-diameter, thin-walled tubing or large-diameter, heavy-walled tubing, this video offers tips and best practices to follow for tube bending.
See the Tube Bender in Action
Swagelok Resources Curated for You