text.skipToContent
text.skipToNavigation

Swagelok® Calibration and Switching Modules
Swagelok calibration and switching modules are highly configurable pre-engineered subsystems built with Swagelok modular platform components. They perform final conditioning of samples before analysis and allow a user to select from up to 10 samples and two calibration streams using the Swagelok stream selector system (SSV series).
Request More Information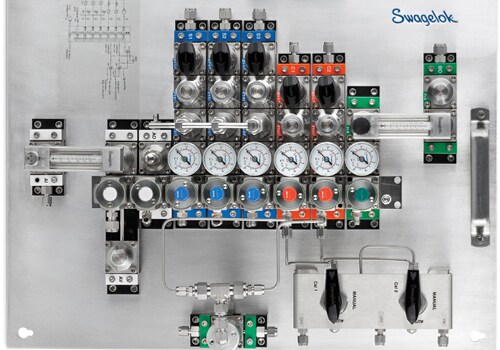 The Swagelok calibration and switching module (CSM) provides a discrete switch between multiple process samples and conditions and selects process streams for analysis. The CSM pre-conditions the sample by ensuring samples are inserted into the analyzer at the appropriate pressure, temperature, flow, and filtration levels. Integrated flow loop design ensures consistent delivery times to the analyzer across all streams and eliminates any deadlegs or chance for cross-stream contamination.
The CSM is built on the Swagelok modular platform component (MPC) platform, utilizing the Swagelok stream selector valve (SSV) product, which allows the user to select the configuration required for the specific system. The standard model described here accepts up to ten process and two calibration fluids, either all liquid or all gas. The main function of the CSM is to condition and select process streams, or to select a calibration stream for analysis. At a minimum, each system must have two inlets—two process stream inlets, or one process stream inlet and a calibration stream inlet. The system selects a fluid for analysis in response to a pneumatic pressure signal from an external source, typically the analyzer. The signal opens one of the SSV double block-and-bleed valve modules corresponding to the stream containing the fluid to be analyzed. The Swagelok CSM offers several additional advantages, including:
A variety of sample conditioning configurations available to meet application requirements
A manual calibration option that allows the operator to calibrate the analyzer at any time
Color-coded stream identification—process stream inlets will always be blue, calibration streams orange, bypass green, and outlet white
An integrated flow loop design to ensure consistent delivery times to the analyzer across all streams and eliminate any deadlegs or chance for cross-stream contamination
A vented air gap that prevents the hazardous possibility of pneumatic air mixing with system fluid under pressure
A modular design that allows easy maintenance. Individual components can be removed from the assembly by loosening four screws accessible from the top of the panel. There is no risk of accidentally disassembling the whole unit or of upsetting other fluid connections.
A bypass option that allows high flow—and subsequent reduced sample time delay—to the CSM
The CSM can be built with several different inlet and outlet assembly options.
Calibration and Switching Modules Catalogs
Locate detailed product information, including materials of construction, pressure and temperature ratings, options, and accessories.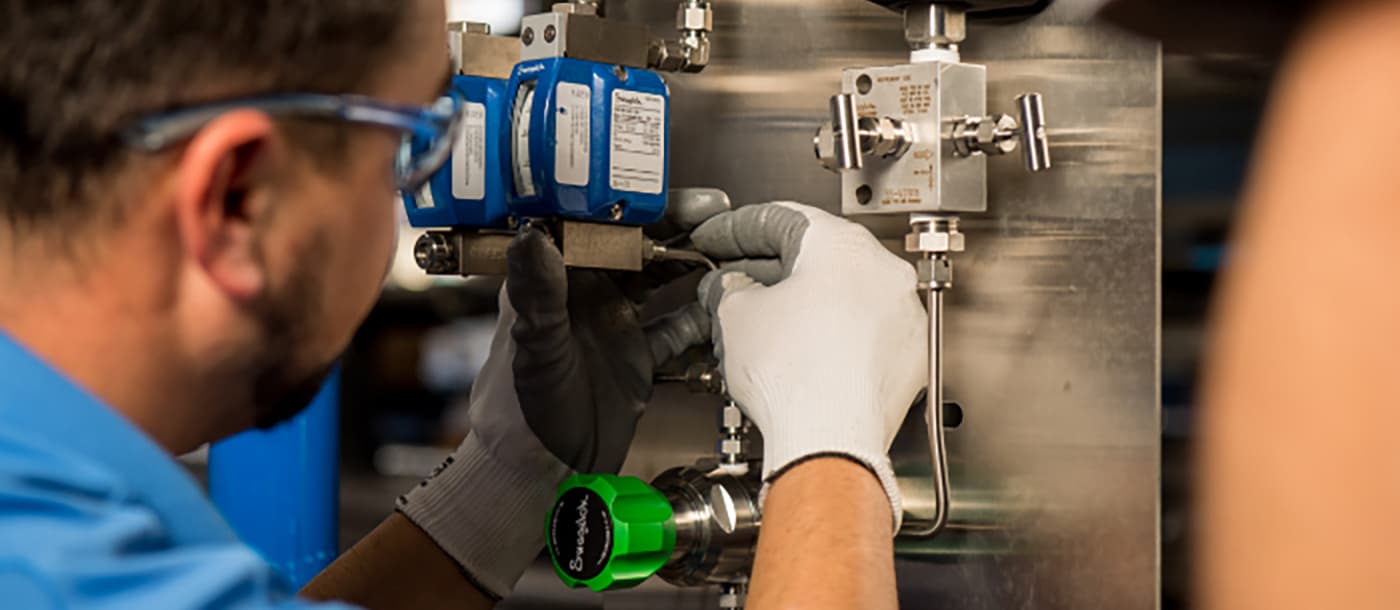 Custom Fabrication for All Industries
Learn how Swagelok-trained specialists can save you time and improve your fluid system performance by designing and assembling systems for you.
Find the Support You Need
Swagelok Resources Curated for You