text.skipToContent
text.skipToNavigation

Swagelok® Pressure Gauges, Ultrahigh-Purity and Clean Dry Air
Swagelok ultrahigh-purity and clean dry air pressure gauges feature a Bourdon tube to monitor positive system pressure and vacuum.
Request More Information
PGU series and PGC series pressure gauges are designed for use in a wide range of applications, from bulk gas distribution to process tool applications. Their accuracy is in accordance with ASME B40.1 and dial sizes of 50 mm (2 in.), ± 2% / 1% / 2% of span (ASME B40.1, Grade A, EN 837-1 Class 2.5, JIS B7505 Class 2.5), and 40 mm (1 1/2 in.), ± 3% / 2% / 3% of span (ASME B40.1, Grade B, EN 837-1 Class 4, JIS B7505 Class 4), are available.
PGU series gauges are UHP "clean" for semiconductor gas applications, in accordance with SEMI/SEMATECH and are cleaned and packaged in a class 100/10 cleanroom and have 316L VAR end connections.
PGC series gauges are assembled, cleaned and packaged in a class 100 cleanroom and have 1/4 in. NPT end connections.
Specifications
Dial Ranges
PGU series: Vacuum to 3000 psi; 200 bar; 12 MPa
PGC series: Vacuum to 6000 psi; 400 bar; 40 MPa
Dial Sizes
40 and 50 mm (1 1/2 and 2 in.)
Accuracy
In accordance with ASME B40.100, EN837-1, and JIS B7505
Temperature Range
Ambient
–40 to 140° F (–40 to 60° C)
Media
–40 to 212° F (–40 to 100° C)
End Connections
PGU series
1/4 in female VCR®, 1/4 in. rotatable male VCR, 1/4 in. integral male VCR, 1.5 in. flow-through surface-mount
PGC series
1/4 in. male NPT
Testing and Calibration
Every ultrahigh-purity and clean dry air gauge is 100% factory calibrated and helium leak tested to a maximum rate of 1× 10-9 std cm3/s.
Pressure Gauges Catalogs
Locate detailed product information, including materials of construction, pressure and temperature ratings, options, and accessories.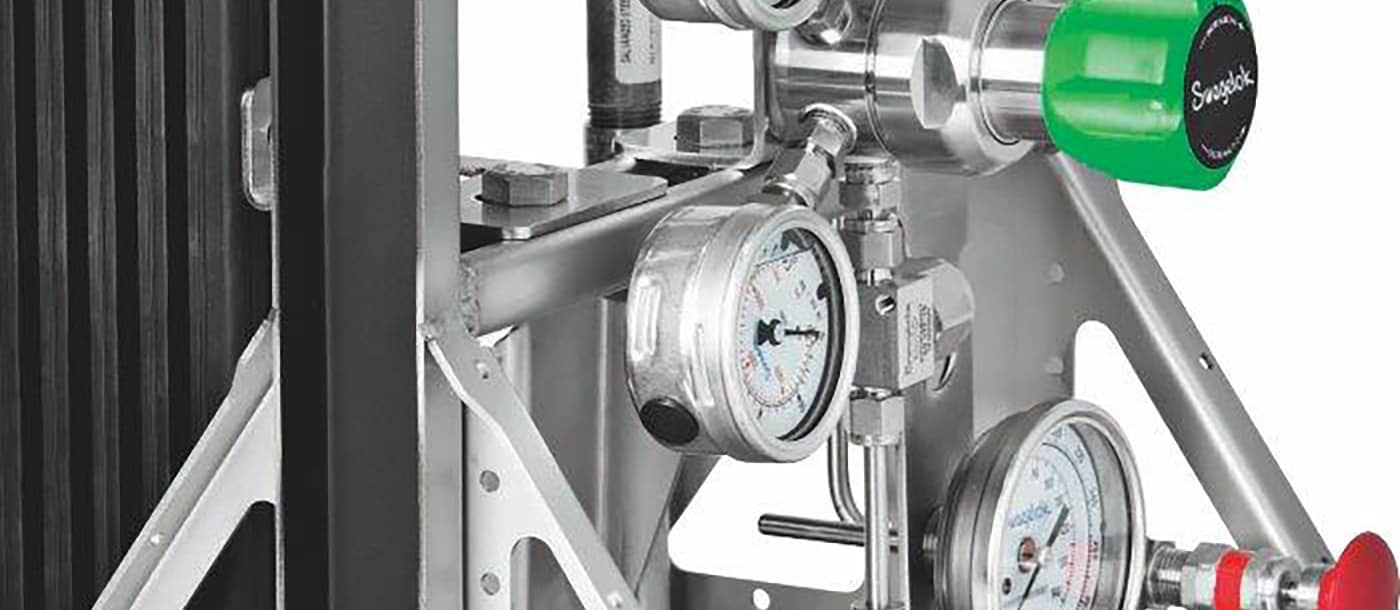 Small Footprint, Large Impact: How to Detect and Protect Against Gauge Failures
Learn to recognize the signs of a failing gauge and avoid risk to employees and costly downtime to make repairs.
Learn to Prevent Gauge Failure
Swagelok Resources Curated for You