text.skipToContent
text.skipToNavigation
Swagelok® Smart Products
Swagelok's PTX series transducers and VCM digital control module smart products work together to capture and report the critical flow, temperature, and pressure of process samples destined for process analyzers.
Request More Information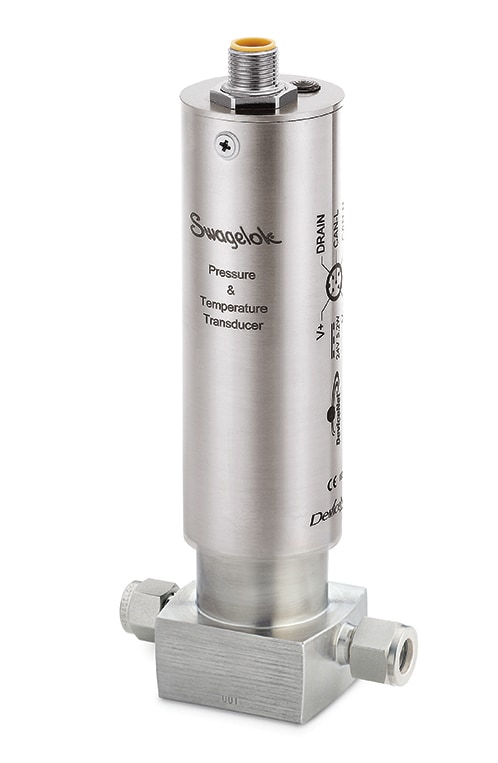 Intrinsically Safe and Digital Pressure and Temperature Transducers (PTX Series)
The Swagelok PTX series transducers are specifically designed to measure pressure and temperature of sample system fluids. Both models reduce delay time dramatically with a low-volume flow path and rapid purge bowl design and are available with 1/4 in. and 6 mm Swagelok tube fittings or Swagelok MPC series modular system end connections.
The intrinsically safe model is approved internationally for use in any hazardous location (Class I , Division 1/ ATEX Zone 0) and communicates with traditional automation equipment with suitable analog inputs. The digital model is approved for use in Class I, Division 2 hazardous locations and communicates with Swagelok VCM digital control module or other DeviceNet™ products.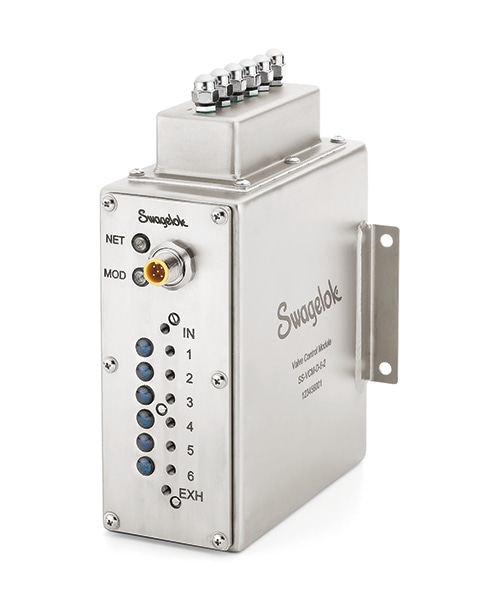 Digital Valve Control Module (VCM)
The Swagelok® VCM uses a sophisticated control and monitoring system to operate up to six pneumatic stream selecting valves or other discrete valves. This compact system reduces complicated cabling and minimizes overall power consumption. It is a Class 1, Division 2 rated device and is UL certified for use in hazardous areas. It communicates with other systems through a DeviceNet™ network interface and accepts digital inputs as an option.
Smart Products Catalogs
Locate detailed product information, including materials of construction, pressure and temperature ratings, options, and accessories.
Intrinsically Safe Pressure and Temperature Transducers, PTX Series
Features: One device measures both pressure and temperature in near-real time; ANSI/ISA 76.00.02-compliant interface compatible with Swagelok® MPC series modular system or 1/4 in. Swagelok tube fitting end connections; IP64 ingress protection; ± 2 % full-scale pressure measurement accuracy; ± 4°F (± 2.2°C) absolute temperature measurement accuracy; Low-volume flow path and rapid purge bowl design dramatically reduce delay time in sample systems; Two analog putputs (0 to 5 V )for pressure and temperature
Digital Valve Control Module, VCM: VCM Series
Features: Up to six network-controlled pilot valves; LED valve status indicators; Threaded end connections for inlet, outlets, and exhaust; Integrates easily with conventional or Swagelok® modular platform component (MPC) systems; DeviceNet™ network interface; IP64 ingress protection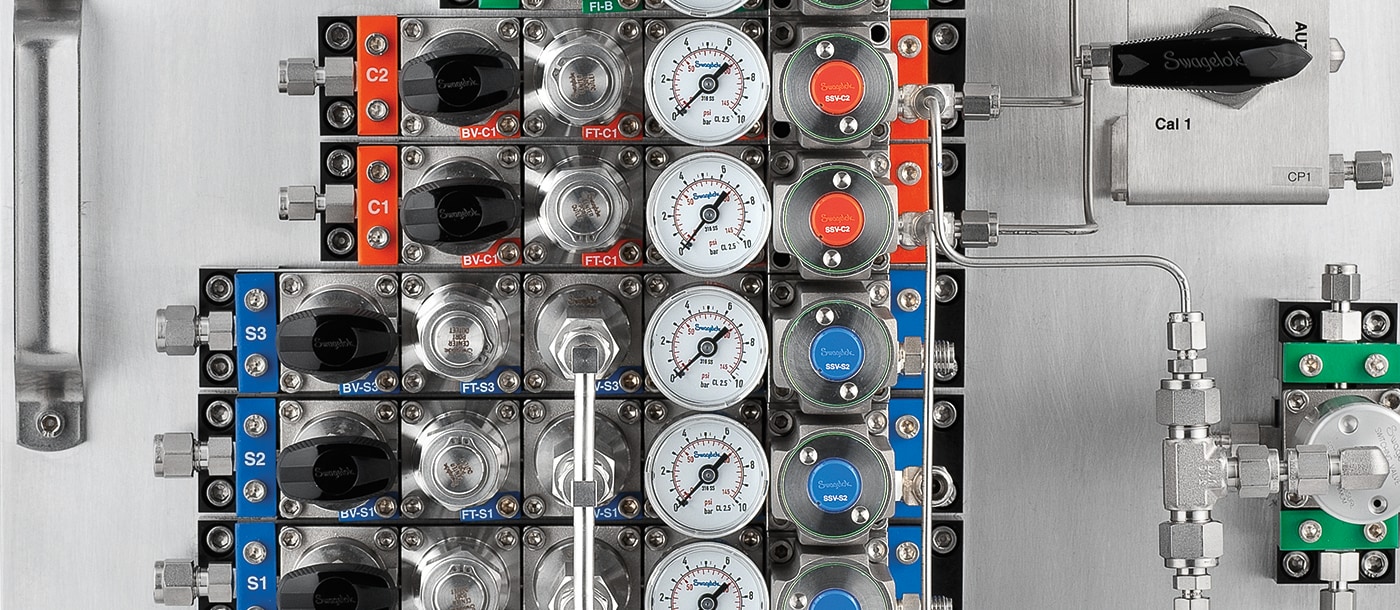 Tips to Maintaining a Representative Sample in an Analytical Instrumentation System
Maintaining a representative sample within an analytical instrumentation system can be difficult. Learn how to identify major issues and avoid complications associated with a compromised representative sample from the experts at Swagelok.
Maintain Representative Samples
Swagelok Resources Curated for You